The Golden Hill
Greetings from warm, sunny Urbana...
Saturday, December 17, 2005
Adam gets a haircut
Adam got his monthly haircut.
His hair is thick and wavy.
Luckily it grows slowly.
NASCAR - Not!
Another old picture of Adam, this time behind the wheel
of one of his father's NASCAR simulation games. It was
cute to see him trying to drive with that setup!
Blast from the past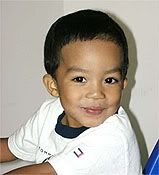 I must admit I've been bad with photos. Most parents would
constantly be taking pictures of their children, sending
them to relatives. Not me. Here are four old pictures of
Adam when he was about three-years-old. Adam had outgrown
the ezcema that was on his face, which proved to be a pain
in the rear to take care of. Now, it's his knees turn.